GUIDE
5 Ways APIs Are a Game-Changer for EHR and HIT Vendors
The slow adoption of technology standards in healthcare has resulted in variation that causes data to get stuck in "silos" where it's inaccessible to other systems. It's time to embrace APIs to:
Boost innovation

Move digital health information fluidly between disconnected systems

Enable patients to access their medical information

Empower providers to share health records for better care collaboration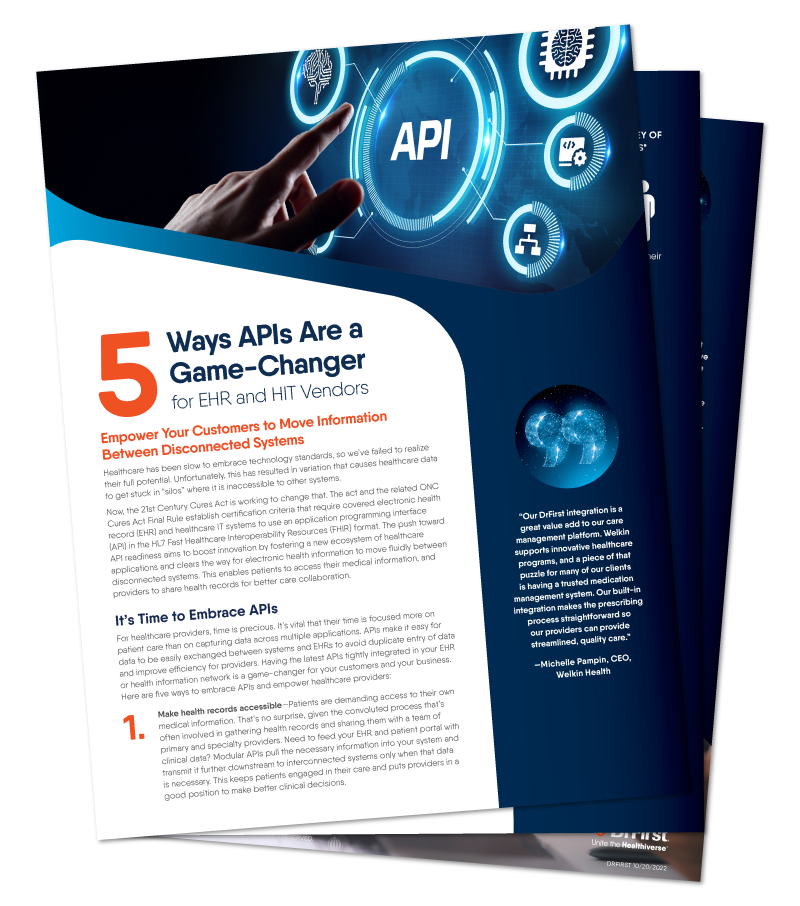 Partnerships That Put Strategy Before Software
The digital transformation of healthcare is forcing change faster than ever. For EHRs and other health IT vendors, the ever-shifting landscape presents many challenges—and opportunities.
At DrFirst, we believe strategy should always come before software. Fortunately, we are far more than a software company. We are a strategic partner for EHR and health IT vendors, creating relationships based on trust, dialogue, and respect. As a DrFirst partner, you can rely on us to deliver innovative technology, assist with medication management regulations, and free up space on your roadmap for new projects.
In this complex, fiercely competitive market, more than 300 EHR vendors depend on DrFirst to help solve their customers' challenges, accelerate innovation, and comply with new regulations. Leave development and compliance to us, and gain back product and technical resources for strategic initiatives that make your platform a valuable source of trusted data.
Download these five game-changing ways to make data easy to exchange between systems and EHRs, giving your customers precious time back to focus on patient care .