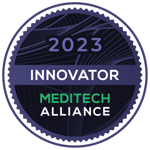 See how the latest medication management and care collaboration solutions can
improve patient care at your hospital or health system.
CUSTOMER INNOVATION SPOTLIGHT
Magnolia Regional Health Center Finds Prescription Abandonment Contributes to Readmissions
myBenefitCheck and MedHx
Price transparency and medication history tools reduce prescription abandonment and improve medication adherence.
CUSTOMER INNOVATION SPOTLIGHT
Stillwater Medical Center Tackles Medication Adherence For Patients With Diabetes
MedHx PRM
Improving medication adherence and avoiding unnecessary readmissions among patients with diabetes.
CASE STUDY
King's Daughters Reduces 30-Day Readmissions by 11.3% With AI-Powered Medication Reconciliation
SmartSig
IT leaders improve their medication history source with an AI-powered solution that streamlines medication reconciliation.
WHITE PAPER
The Complete Care Collaboration Platform
Backline
Explore six ways leading health systems are using telehealth, secure messaging, and clinical communication to connect care teams and patients to the right information at just the right time.
OVERVIEW
Six Ways to Enhance Ambulatory Patient Care With a Clinical Communication Platform
Backline
Hospitals and health systems are streamlining real-time communications with patients, their care teams, and providers with Backline®.
OVERVIEW
Communication Technology for Healthcare Without Walls
Backline
Telehealth, secure messaging, file transfer, and more: a secure collaboration platform offers unique features and benefits that provide an exceptional clinician and patient experience.
OVERVIEW
Sync Up with Backline - Telehealth
Backline
To achieve effective care coordination, you need better tools to keep the care team, their patients, and even external providers and specialists in sync. See how to deliver the convenient, on-demand care that patients have come to expect.
OVERVIEW
Sync Up with Backline - Case Management
Backline
Simplify case management communications, improve compliance, and prevent avoidable readmissions.
OVERVIEW
Streamline Med Rec, Improve Med Adherence, and Reduce Readmissions With Your MEDITECH Expanse EHR
Healthiverse EnterpriseSuite
Healthiverse Enterprise Suite: medication management solutions and features support the entire patient journey.
OVERVIEW
When Disaster Strikes: Business Continuity During Your EHR Downtime
Healthiverse EnterpriseSuite
Our suite of platform solutions complements your existing EHR technologies to keep patients and providers in sync and deliver better clinical outcomes.
OVERVIEW
Solving Prescription Abandonment: A Widespread Problem Affecting Your Patients and Your Practice
RxInform
E-prescribing software can increase fill rates by engaging patients minutes after their new prescriptions are sent to the pharmacy.
OVERVIEW
Lower Patient-Safety Risk: Fill Important Gaps with SmartSig
SmartSig
An essential interoperability tool creates more accurate patient medication histories—while decreasing time spent in front of a screen.
DrFirst's e-prescribing and medication history are integrated with MEDITECH, giving your clinicians access to best-in-class solutions.


Adding SmartSig AI technology to safely translate and infer medication history data can streamline medication reconciliation by up to 50%.
Other integrations that support e-prescribing include price transparency, electronic prior authorization, and controlled substance modules.