Automated COVID Test Results & Vaccine Outreach
Better COVID communications starts with better communication tools:
Get test results into the hands of your patients and clinicians significantly faster with automated messaging

Streamline your vaccine notifications

Alert all your care teams automatically of a PUI
How It Works
Enhance your EHR and vaccine scheduling system with automated messaging powered by Backline.
Use Backline's secure text features to send COVID test results to patients and clinical teams instantly. Monitor text read receipts to confirm patients are notified. Plus, link to the patient portal to drive better utilization.
Replace manual phone calls with mass secure text to reach high-risk patient groups quickly and streamline vaccination scheduling.
Learn more: Read this blog post about accelerating vaccine outreach and test notifications.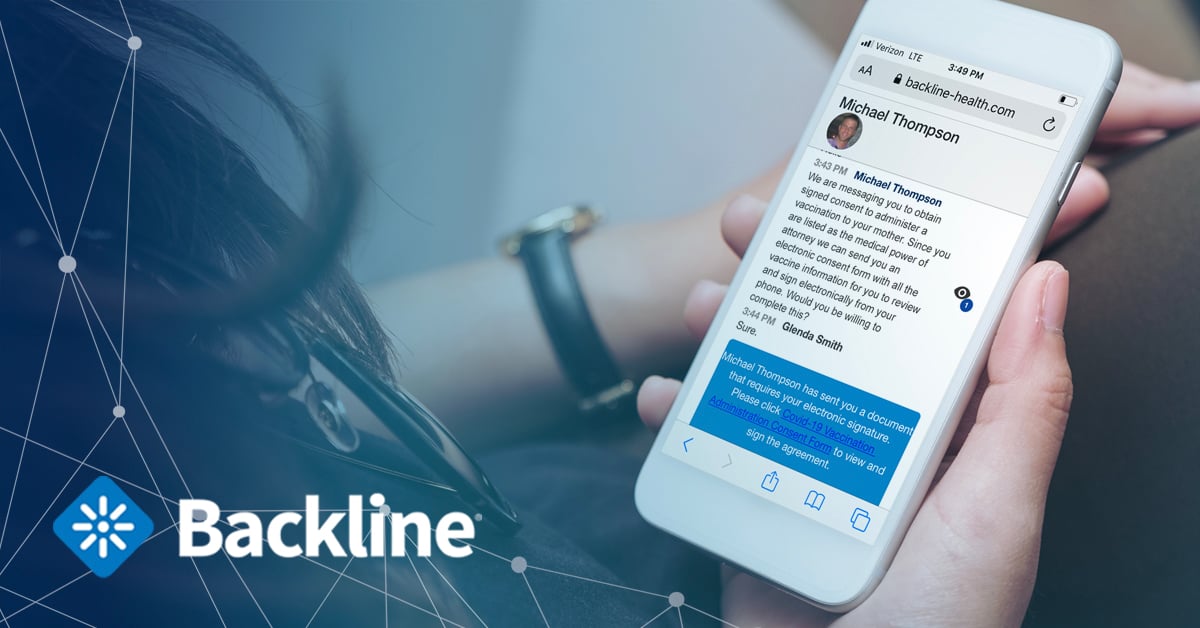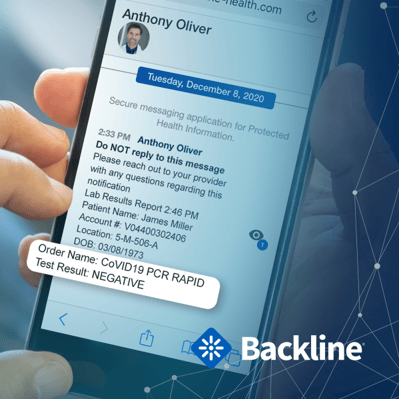 Reduce Call Volumes by up to 65%

with Automated Negative Test Results
Eliminate hundreds of calls per day
Deliver results to patients faster
Free up front-line staff and clinicians
Free Resource: COVID Coordination Checklist
Our clinical team outlined best practices to help you plan your COVID communication strategy. Download the free tool now.
7 Ways to Enhance COVID Care with Backline
Accelerate COVID Updates and PUI Workflows



Vaccine Alerts and Consent Coordination

Share Information with
Community Providers

Video Consults
and Virtual Care

Triage High-volume
Patient Follow-up with Response Ticketing
Backline | All-in-one Care Collaboration Platform
Backline bundles automated alerts, broadcast and group messaging, clinical file sharing, cross-organizational chat, telehealth, e-sign capability for forms/consent, and more through one HIPAA-compliant application.
Unlock countless ways to improve collaboration between your care teams, patients, and even community providers.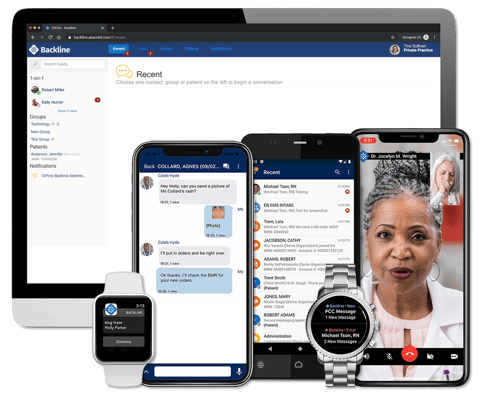 Jackie Rice
Vice President,
Chief Information Officer


Frederick Health



"By using Backline, we're able to deliver negative COVID test results as soon as possible and [improve] efficiencies, so we can quickly call those patients who test positive for COVID."
Lyndon Allen


SLHS Vice President and Chief Information Officer, PMP, PPMC


St. Lawrence Health System
"Partnering with DrFirst to deploy the Backline Telehealth solution has propelled our ability as a health system to rapidly offer Telehealth capabilities with ease of use and reliability. "
Dr. Azizeh Salloum
Chief Medical Officer

CompleteCare Health Network
"Backline has been integral in helping CompleteCare Health Network make the transition to offering telemedicine services during the COVID-19 pandemic."
Explore Backline
Watch these short videos to see how we can help you with care coordination.
Send Electronic Documents